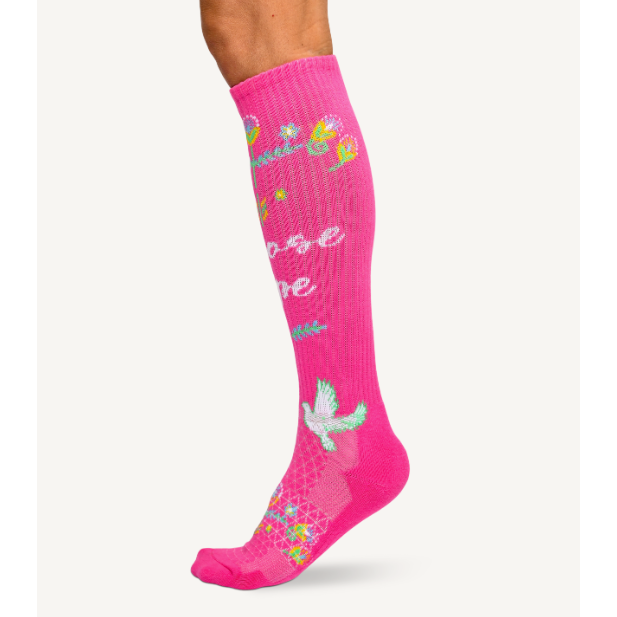 Choose HOPE Pink Performance Socks
---
In stock, ready to ship

Inventory on the way
 Lucky Chuck Socks is excited to partner with Sanctified Hope Home for Women, a Christ-centered transitional home for women who have recently been released from prison.

Lucky Chuck's new line of Choose Hope Socks is set to release Aug. 1, with proceeds benefiting Sanctified Hope to help provide a safe learning environment for formerly incarcerated women through a 12–18 month Christ-centered program in Weatherford, Texas.
The partnership began when Lucky Chuck owner and founder, Weatherford-based businesswoman Lorinda Van Newkirk, was introduced to the women of Sanctified Hope through a friend. The home's mission was close to her heart — Van Newkirk has a family member who was formerly incarcerated, and she has seen firsthand the struggles people can face after being released from prison. 
"So much of what those women talked about made a huge connection with me, because my family member could have been in this situation. What they all battle with really resonated," Van Newkirk said. "I knew I wanted to be involved."
Van Newkirk completed Sanctified Hope's mentorship certification program but felt she could have a greater impact through the reach of her business.
"Being a mentor wasn't where I could have the biggest benefit. That's not where I shine, and at the end of the day, what the program needs most is money, so that's how I came up with the sock idea," Van Newkirk shared.
The Choose Hope Socks line was thus born, featuring Sanctified Hope's defining dove logo paired with sweet floral accents on a fun, hot pink knee-high sock. Choose Hope Socks feature all the same high-comfort qualities and soft blend of hemp biowaste, organic cotton and recycled cotton that make Lucky Chuck Socks the cleanest and most durable socks on the planet, but now even better through their support for the women of Sanctified Hope.
Lucky Chuck's Choose Hope Socks will be available Aug. 1 at luckychuck.com to the general public as well as wholesalers. They will also be featured in Sanctified Hope's annual fundraising fashion show Unmasked, showcasing the women of the program as models. The event September 22 from 10 a.m. to 12 p.m. at Trinity Bible Church in Willow Park, Texas, includes vendor booths and shopping, a guest speaker and brunch leading up to the fashion show.
To learn more about the program, fashion show and how to donate or get involved, please visit sanctifiedhope.org.
TO read more click here COWGIRL MAGAZINE 
One SI
Let's face it – regular boot socks are kind of a bummer. They're always too thick for a hot day in the arena and look like something your grandpa would wear. (No offense to grandpas but we could do better!) Lucky Chuck Performance Socks are not your grandpa's boot socks – they are combining fashion and function to be the best performance sock on the market! These Performance socks are made lightweight and breathable blend that uniquely features natural anti-microbial and odor-fighting properties of hemp. So, they are perfect for hot summer days or great in those winter months. 
Designed by head cowgirl Lorinda Van Newkirk, it's no surprise these riding essentials come pack with style and well-thought-out design. They are tall enough and stay up to protect your calves and never cut the circulation off. Lucky Chuck Performance Socks softens with every wash, but without wearing out ~ meaning even more chances to wear your lucky socks every day. Everyone deserves to wear a pair of LUCKY Chuck SOCKS!! 
Lucky Chuck Performance Socks FITS most all LUCKY Feet! (One size fits most feet)
Made using:
39% Organic Cotton
25% Polyester
16% Recycled Cotton
13% Hemp Biofiber
6% Rubber
1% Spandex
 Hemp Biofiber ~Fibers from hemp crop scraps are blended with organic cotton, creating soft yet stronger yarn.
We strive to ship all orders within 2-3 business days. We currently ship to addresses in the United States and around the globe. If you have issues with your order, please email us at orders@luckychuck.com for assistance.  
Shipping to Hawaii and Alaska may incur a slightly higher shipping charge, which will be noted when you enter your shipping address during checkout.